Image Details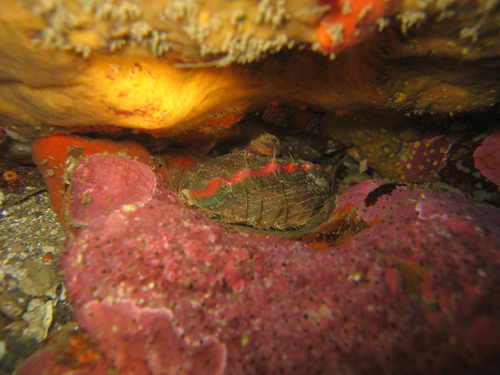 This is probably a pinto abalone
Haliotis kamtschatkana
. When young, pinto abalone have a deep groove running along the excurrent openings (respiratory pores) of the shell, and it can also have a bright red or golden stripe.
Species:
Pinto abalone (
Haliotis kamtschatkana
)
Location (General):
Point Lobos
Site (Specific):
Middle Reef
Date taken:
January, 20 2008
Photo credit:
Ian Sayers
Photographer's comments:
Photo courtesy of Ian Sayers. For more photos by Ian, visit www.pt-lobos.com.
Photo Location Map
Latitude: 36.522031 Longitude: -121.938686

File name: IS_012008_006.jpg